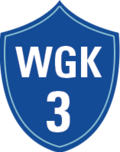 We have 40,000m² of WHC 3 areas at the Eschweiler Logistics Campus and are familiar with handling substances hazardous to water:
If required, we can develop further areas according to your wishes within approx. 18 months.
Especially in the case of high-value and security-sensitive goods, the requirement is to prevent theft, damage or loss. Tailor-made security concepts are decisive for success here.
With our multi-level security program, you receive a secure solution from a single source – from individual parts to partial loads to complete loads. Security standards for storage, packaging and transport that can be precisely adapted to your specific requirements guarantee you optimum security at every stage.
State-of-the-art technology and fully integrated security systems reliably rule out loss or damage.

TAPA FSR 2020 Level A and TAPA TSR 2020
Hammer GmbH & Co. KG has awarded the certificate of the TAPA (Transported Asset Protection Association).
TAPA FSR 2020 Level A [PDF, 224 KB]
TAPA TSR 2020 [PDF, 558 KB]